We are officially entering the last quarter of the NFL season. Each team with four games remaining, we are starting to see the playoff picture clear up. Some teams have already been eliminated, many are still hanging on, and others are fighting for the top seeds in their respective conferences.
With the latter half of the season upon us, that means that we also are entering the college football bowl season. Some of the most exciting games of the year and it is always capped off with the ever so entertaining college football playoffs.
This weeks "Reiding Between the Lines" scouting journal is absolutely full with a plethora of draft information. A scouting report on fast rising Iowa cornerback Josh Jackson, an in-depth look at my top-45 NFL draft prospects, including breakdowns and NFL player comparisons for each, and as always ending with a six-pack of final thoughts about multiple events happening around the sports world.
Scouting Report
CB Josh Jackson — Iowa
Junior
Hometown: Corinth, TX
Height: 6'1″
Weight: 190 lbs.
What's There to Like?
— Awareness
One of the biggest traits I look for when evaluating defensive backs is their awareness. Whether it's zone or man coverage, how is their awareness in these particular situations? If it's man-to-man coverage, Jackson has a great feel of the particular route that the receiver is trying to run. In zone coverage, he has phenomenal awareness of what passing concepts offenses are trying to execute against him.
In the example above, Ohio State is trying to run a "flood" concept. The concept is designed to have targets for the quarterback at all three levels (deep-intermediate-short) of the field. Iowa's defense is in "cover three" coverage, meaning that Jackson is responsible for a third of the field. His area is typically the hash marks to the sideline.
Not only is it his awareness that makes this play so special, but he understands that the original receiver that was in front of him was running a clear-out route for the intermediate receiver in front of Jackson. He quickly processes this concept and jumps the intermediate route, resulting in an interception.
— Length
With most NFL teams preferring bigger receivers, what you are now seeing is in-turn, teams are now utilizing the same strategy with their cornerbacks. They are now preferring defenders with longer frames in their secondaries in order to match the measurables of the growing trend of bigger receiving corps. At 6'1″ and possessing extremely long arms, Jackson has the size and length that teams covet.
— Ball Skills
When grading defensive backs, interceptions aren't heavily weighted for me, simply because I value them as an added bonus. That's not to say that I don't appreciate when a prospect has a high number of them or view it as a knock when there's a lack thereof. As long as they are limiting the catches/targets of the receivers in front of them, then it should be seen as a positive.
With that being said, Jackson has phenomenal ball skills. Being a converted receiver, that should be expected. It's not just the seven interceptions this season or 18 pass breakups this season that makes his ball skills stand out though. He routinely gets pass deflections and he has the ability to track/find the ball in the air once it is thrown.
— Upside
Jackson was converted from wide receiver to cornerback in 2015, meaning that he's only been playing the position for two seasons. After his breakout 2017 campaign, it's understandable why many are saying that the Hawkeye defender is only scratching the surface of how good he truly can be. Scouts have to be salivating at improving his weaknesses and sharpening the tools he already once he enters the NFL.
What Needs to Be Improved?
— Technique
Considering that Jackson is a taller corner and he's still somewhat relatively new to the position, his technique still needs work. He has a tendency of playing too tall. As a result of that, he tends to run on his heels and gets grabby.
Once Jackson comes out of his initial stance at the line-of-scrimmage, he stands straight up. Standing straight up limits his ability to mirror the movements of the receiver that he's guarding. Still solid coverage, but you can see the flaws and grabbiness in his technique are on full display in this example.
— Hip Fluidity/Change of Direction 
One of the biggest improvements I would like to see Jackson make is his consistency in his change of direction skills and turning in phase with receivers. When matched up against shiftier or faster receivers, Jackson sometimes struggles with their quicker movements in their routes because of his average hip fluidity and technique.
Overall
Josh Jackson is viewed as a first-round prospect by many and I completely agree. He is the total package at cornerback and everything that you want a first-round prospect to exemplify. Just like any other prospect, he has flaws, but his minor flaws are very correctable.
Jackson reminds me a lot of Detroit Lions Pro-Bowl cornerback Darius Slay. Possessing a very similar skill-set, frame, and upside. It would not surprise one bit once we look back on the draft in a few years that Jackson was one of the better overall defensive players.
The Scouts Eye View
In the coming months, my talk about the NFL Draft and positional rankings will increase. Rankings and stock reports are starting to surface everywhere on each particular prospect.
Below is my way too early top-40 prospects of the 2018 draft — including a mini-breakdown and my scouting notes of every prospect and an NFL comparison for each.
1. RB / Saquon Barkley — Penn State
NFL Comparison: Ladanian Tomlinson
After getting off to a scorching hot start to the 2017 season, defenses began to hone in on the talented rusher. Even though he's face eight and sometimes even nine man boxes, it still does not discredit the fact that Barkley is special. He is a living definition of the modern day NFL running back. With the ability to run between the tackles, out on the perimeter and catch out of the backfield, he has the potential to be a centerpiece for an offense. He's a special talent.
2. CB / S / Minkah Fitzpatrick  — Alabama
NFL Comparison: Malcolm Jenkins
The biggest debate with Fitzpatrick is where do you play him? My answer to that is just to simply get him on the field and let him flourish. The Crimson Tide defender is a "football player". Having experience at cornerback and strong safety, he is the ultimate chess piece on defense. Where he provides tremendous value though is as a blitzer off of the edge. He has an uncanny ability on blitzes of being able to generate pressure and create turnovers.
3. OG / Quenton Nelson — Notre Dame
NFL Comparison: Richie Incognito
Quenton Nelson displaying mental processing, recognition and awareness which allows tremendous play-speed, UNREAL!

The backview is even more impressive #EyesOnOLine pic.twitter.com/mX7zDiZuBI

— Duke Manyweather (@BigDuke50) November 28, 2017
Already labeled by ESPN NFL Draft analyst Mel Kiper as "the best pure offensive lineman in the draft in the last 35 years", Nelson is the real deal. Possessing overbearing power, above average athleticism and playing with a tremendous mean streak, he will easily be a plug and play starter for the team that drafts him. He has all the qualities you love to see in an elite offensive line prospect and it would not shock me at all if he is an instant All-Pro. Nelson is that good.
4. EDGE / Bradley Chubb  — NC State
NFL Comparison: Everson Griffen
Bradley Chubb is going to go really early. pic.twitter.com/EpW0yOgI2o

— Lance Zierlein (@LanceZierlein) November 17, 2017
Chubb is a pass rusher that possesses heavy hands, and above average ball get off. He has shown the capability of playing three positions along the defensive line (both end spots and three-technique). What stands out the most is his ability to bend the arc and relentless mentality of not being satisfied until he gets to the QB. That's proven as he's already broken the former no. 1 overall pick of the 2006 NFL Draft, Mario Williams school record for sacks (25.5). Relying heavily on the bull-rush, I would like to see him develop a wider arsenal of moves, especially a counter move once his initial move is not successful. Against the run, he understands leverage and how to maintain gap integrity. Chubb is an immovable force against the run as he understands how to violently set the edge as well.
5. S/ Derwin James  — Florida State
NFL Comparison: Reshad Jones
Some will say he took a step back this season, but I disagree. What many aren't taken into account with James is that his junior season was only his second full season as a college player. Sustaining a knee injury that resulted in him having to get knee surgery cut his sophomore campaign short. James started the season off slow, but that is somewhat expected coming off of a torn meniscus. Against Wake Forest, Syracuse, and Clemson, he looked like the player that we were accustomed to seeing pre-injury. James is best served as a box defender in a hybrid linebacker/strong safety role in the NFL.
6. QB / Josh Rosen  — UCLA
NFL Comparison: Matt Ryan
Possessing above average arm strength, Rosen has the ability to make throws at all three levels of the field. When in a clean pocket, his mechanics, footwork and throwing delivery look that of a top QB prospect. He has natural pocket presence and can create when things break down. Rosen biggest improvements need to come in the mental processing department. He has a tendency of locking onto his first option instead of going to the next options in his progression. An improvable trait, but the one trait that will have mixed reviews is his intangibles. Rosen is known to have a big personality and combine interviews and meetings will be big for his draft stock.
7. OT / Connor Williams  — Texas
NFL Comparison: Joe Staley
Without a doubt, the top tackle on many draft boards entering this season. After suffering a sprained knee vs. Maryland, his stock dropped tremendously as he just looked like a completely different player than what we saw in 2016. Making his return from injury against West Virginia, Williams quickly quieted his critics as he put on an absolute clinic. Displaying quick feet, flawless technique and burying defenders. He looked like a potential franchise left tackle. He's already announced that he is declaring for the upcoming draft as he will not be playing in Texas' bowl game.
8. IDL / Maurice Hurst  — Michigan
NFL Comparison: Sharrif Floyd
Known for his explosive first step off of the line-of-scrimmage, what makes you fall in love with Hurst is his non-stop motor. After spot duty in 2016, this season was his first season as a full-time starter and he did not disappoint. Hurst is not a interior defensive lineman that is going to clog double teams or hold down multiple gaps, but he is a prospect that is going to penetrate offensive lines and constantly get up the field. Already having NFL bloodlines, as his dad Maurice Hurst, Sr. was a successful defensive back for the New England Patriots (1989-1995), he has the makings of an instant impact player along someones defensive line.
9. IDL / Christian Wilkins  — Clemson
NFL Comparison: Kenny Clark
https://twitter.com/seldomusedrsrv/status/937837220379193344
One of the harder evaluations of this draft class is the Clemson defender. There's no doubt that he's a solid prospect, but in 2016, Wilkins constantly played out of position (five-technique) due to the injuries that the Tigers suffered. Despite playing defensive end at times, Wilkins constantly flashed. Voted a team captain and leader of their defensive attack, opinions will be mixed about Wilkins, but he's firmly in my top-10. The biggest question with him will be his arm length. It's evident in his technique that he does not possess long arms and this may turn evaluators away from him.
10. RB / Derrius Guice  — LSU
NFL Comparison: Curtis Martin
Lost in the shuffle of the Barkley hype was Guice. Both coming into the season as the consensus top two rushers, Guice's stock quieted a bit, but during the latter half of the season Guice cranked it up and began to look like the 2016 version of himself. Guice is an extremely violent runner and runs like his hair is on fire. He strains for every single yard and has incredible lateral agility enabling him to make difficult cuts look easy. His pass protection abilites were a big question mark, but his technique has been refined a bit. He looks better when asked to take on blitzers, but he still needs some work at it.
11. WR / Calvin Ridley  — Alabama
NFL Comparison: Reggie Wayne
In an underwhelming wide receiver class, if I had to put my money on one becoming a star, Ridley would be that guy. Everyone knows that the SEC is rarely ever known for their QB prospects, rather they are known for their plethora of running backs and hard-nose defenses. It's crazy to say that Ridley could be a diamond in the rough, but what I mean by that is that we are unable to see Ridley's true potential due to being stuck in an offense with an inept passing game. If he's able to go to a team that can target him consistently, I think Ridley has plenty of upside to be a teams no. 1 receiver. His natural route-running and change of direction abilities are outstanding, as he should have no problems creating separation against NFL defensive backs.
12. IDL / Da'Ron Payne — Alabama
NFL Comparison:
Lost in the hype of the Alabama defense has been Payne. He's very powerful at the point of attack, seamlessly controlling offensive lines and executing the technique that is asked of him. Payne just goes about his business and plays his role. Periodically flashing vs. the run and creating havoc vs. the pass. He wins with his natural power. He has a very thick lower base that enables him to control blockers and anchor in his gap. His motor does run a bit hot and cold at times, but the flashes of dominance are without question there. Payne has the ability to play as a head up nose tackle in a 3-4 front or an under tackle, one-technique in a 4-down defensive front.
13. QB / Lamar Jackson — Lousiville
NFL Comparison: Randall Cunningham
The reigning two-time ACC player of the year will undoubtedly be the most polarizing and highly debated prospect of this entire draft class. Jackson is one of the most physically gifted QBs to enter the draft in many years. Possessing a strong arm, he sometimes lets it get out of control. With a quick and whippy release, his biggest flaw is throws outside of the numbers. He's been the most inconsistent in that area. What you see though in Jackson is that he's made improvements in major areas game-by-game. He's a gifted runner, who is lightning in a bottle, with unreal burst, agility and acceleration. He can throw the ball efficiently in the short and intermediate areas, but his down the field accuracy needs work. His initial footwork is going to have to be completely rebuilt, as he has some flaws with his base. If Jackson goes to an environment with proper coaching, personnel and a system that caters to his strengths, he has a chance to become an absolute star in the NFL.
14. EDGE / Arden Key — LSU
NFL Comparison: Leonard Floyd
Arden Key's numbers in the four games he played with a broken pinky:

23 tackles (13 solo), 3.5 sacks, 1 forced fumble, 6 quarterback hurries#LSU

— Andrew Lopez (@_Andrew_Lopez) November 27, 2017
A very athletic, explosive and twitchy athlete off of the edge, Key's specialty is as a pass-rusher. His hips, bend and ability to turn the corner on opposing offensive tackles is elite. His hand usage and counter moves are raw right now though, but are teachable. He has to make large improvements against the run as he just doesn't have the proper technique, strength and girth right now to consistently hold the edge. Off the field questions will surround Key as his weight ballooned to 275 pounds, way above his 245 pound listed playing weight in 2016. Suffering through shoulder injuries and some reports about his love for the game have surfaced as well. Key will need to successfully answer questions at the combine in his interviews with the media and teams. If he is able to do that, he will position himself to be a top-15 pick. If he fails in those areas, we could see him suffer a slide well into day two.
15. CB / Josh Jackson — Iowa
NFL Comparison: Darius Slay
Easily my biggest riser of this draft season, Jackson is a true man-to-man cover corner. A converted receiver, his upside is what makes him so intriguing. Possessing very fluid hips and extreme patience at the line-of-scrimmage. He understands routes that receivers are trying to run against him, due to him being a former receiver himself. Ball skills are outstanding, as he collected seven interceptions this season. Jackson has a very high ceiling due to his newness of playing cornerback. His uuside is off the charts. Jackson is an average tackler, but isn't shy to stick his face on ball carriers.
16. QB / Baker Mayfield — Oklahoma
NFL Comparison: Russell Wilson
The heartbeat of an up-tempo, Air Raid, quick strike offense. Mayfield has a quick wrist flick arm action. Makes extremely quick decisions. Pre-snap reads are really good. Understands defensive structures. He can make the throws at all three levels. Highest adjusted comp. pct (79.8%) in the country (2016 and 2017). Partly due to the offense he's in. Uncanny ability to keep plays alive. Can make throws even when forced off of his spot or outside of the pocket. Biggest concern is that if can play within the confines of an NFL offense? Attitude will be highly debated with Mayfield as well. His intangibles and leadership abilities are outstanding though.
17. LB / Rashaan Evans — Alabama
NFL Comparison: CJ Mosley
Extremely versatile. Didn't start until the latter half of the 2016 season. Played multiple positions on the front-seven before settling in at linebacker. Very explosive. Heavy hands and can consistently shed blockers. Motor always runs flaming hot. Sometimes overshoots gaps and misses ball-carriers. Plays wild and out of control often, but never lacks effort. Seems to be a little inconsistent coverage. Needs to learn the finer details of the position.
18. CB / Denzel Ward — Ohio State
NFL Comparison: Malcolm Butler
A school known for producing top-end talent every single season, Ward may be one of the best. Marshon Lattimore was a stud last draft season, but Ward is not that far off. His hips and technique are top-notch and his ability to mirror receivers is impressive. Evaluators will believe that he is a bit undersized at 5'10", but I think he plays and competes like he's much bigger, which will help him on the next level. Where the lack of build does hurt him though is against the run. His tackling must improve.
19. LB / Roquan Smith — Georgia
NFL Comparison: London Fletcher
Roquan Smith put on a sideline/sideline CLINIC vs GT… Put him a little deeper off-ball and allowed him to flow laterally… #UGAvsGT

🔥🔥🔥 pic.twitter.com/N8ya01hasy

— Ben Fennell (@BenFennell_NFL) November 25, 2017
Biggest riser among a weak linebacker class overall. Instinctive. Not scared to put his face on people when tackling. Fluid in space. Heartbeat of the Georgia defense. A system that's produced a lot of successful middle linebackers in previous years. Diagnoses plays very well and is a "see ball/hit ball" type of linebacker. Very strong and when he hits ball-carriers, they immediately go down. Sideline-to-sideline speed stands out on film.
20. EDGE / Clelin Ferrell — Clemson
NFL Comparison: Jabaal Sheard
Relatively unknown coming into 2016. Blossomed as the season progressed. Was unstoppable in the 2016 national championship game against Alabama. Lean. Needs to keep gaining weight, but frame is extremely long. Long arms. Pass rushing is his calling card. Ability to gain the edge is a plus. Bend is average and would like to see him gain a bit more hip flexibility. Struggles when teams run directly at him and inconsistent getting off blocks once engaged with blockers.
21. EDGE / Harold Landry — Boston College
NFL Comparison: Vic Beasley
Very disruptive as a pass rusher. Has a very good feel on how to get to the QB. First step is very good and bend is natural. Didn't always get home on some plays but still effected plays positively. Can some times go missing for stretches in games. Gets lazy vs. the run and allows blockers to get under his pads. A heavily one-sided rusher in 2016 (right side), but mixed it up a bit more this season.
22. CB / Jaire Alexander — Louisville
NFL Comparison: Jason Verrett
Late bloomer and surprise during the 2016 season. Held his own as an outside cornerback. Versatile enough to play in the slot as a nickel. Elite deep speed. Can run stride-for-stride with any receiver. Not scared to tackle against the run, but can get a bit shy at times though. Very successful punt returner. Hips are fluid, but can get outmuscled by bigger/taller targets. Suffered a knee injury in the season opener vs. Purdue. Only played in five games this season. Long-term durability may be a concern.
23. QB / Sam Darnold — USC
NFL Comparison: Tony Romo
Dominant short-to-intermediate thrower. Below average down-the-field passer. Lots of hang-time on his throws down the field. Can be a javelin thrower at times. At his best when throwing quick strike concepts. Understands coverages and progressions. Extremely good vs. pressure (2016 – 67.6%). Has a knack for keeping plays alive. Throwing motion is long and loopy. At times, he's able to overcome it with pre-snaps reads and quick game timing. Has developed a bad tendency of leaving the pocket too soon and relying heavily on creating plays out in space or outside of the pocket.
24. S / Ronnie Harrison — Alabama
NFL Comparison: Ha Ha Clinton-Dix
Good instincts. Tone setter! Has a natural feel for the position. Quiet leader of their secondary. Average range. Thrives vs. the run. Above average tackler. A little bit of stiffness in coverage. Inconsistent in man-to-man coverage vs. slot receivers and tight ends. Discipline in his run fits. Ball carries jerk back when he hits them. Careless about his body when making tackles.
25. EDGE / Ogbonnia Okoronkwo — Oklahoma
NFL Comparison: Brian Orakpo
An extremely gifted pass-rusher, Okoronkwo's story and path to Oklahoma as a kid of two immigrant parents is intriguing. Most comfortable around the line-of-scrimmage, Okoronkwo is at his best when he's asked to relentless rush the passer. Against Texas was a game that stood out to me not only because of his abilities as a rusher, but his motor. It was non-stop. Frequently throughout that game you could tell that he was gassed, but he just kept constantly wrecking havoc. He's best suited as a 3-4 outside linebacker where he's mostly used as a pass-rusher and not dropping into coverage. When asked to drop into coverage, he looks very stiff and you can tell it's a concept that's foreign to him.
26. IDL / Vita Vea — Washington
NFL Comparison: Danny Shelton
Consistely shows up against the run. May be the most powerful player in the country. Effortlessly ragdolls offensive lineman weekly. Primarily a first and second-down defender. Rarely plays on third-down due to lack of pass rush productivity and creativity. Heavily relies on overpowering blockers. Only uses the bull-rush as a move. Arm length, and every-down productive may be a concern. Can be an under-tackle in a four-down front, but it best served as a two gap, nose tackle in a three-down front.
27. IOL / Billy Price — Ohio State
NFL Comparison: Weston Richburg
https://twitter.com/BillyM_91/status/937144169159708673
After playing both guard spots during his freshman-junior seasons, he moved to center in 2017. Much better run blocker than pass protector. Has a bad habit of lowering his head when engaging on blocks. Correctable with proper coaching though. Very powerful and gets movement at the point of attack. Clearly understands how to reset the line-of-scrimmage. Footwork and balance are issues that show up. Center may be best for him since he is a average athlete. Can hide his lack of athleticism there. Rimington Award winner. Durability is a huge strength. Has never missed a game in his college career. 55 straight games played.
28. TE / Dallas Goedert — South Dakota State
NFL Comparison: Zach Ertz
Shows the ability to run routes/block from an in-line or flexed out position. Average blocker. Constantly fights and shows effort when asked to run-block. Very strong hands and shows the ability to make catches in all areas of the field. Average speed (4.7-4.75 range), but has a good overall feel for route running against various coverages. Not a threat to break very many tackles once he's secured the catch. Very compact body frame and stands out despite the competition level.
29. WR / Anthony Miller — Memphis
NFL Comparison: Doug Baldwin
https://twitter.com/NFLDraftInsider/status/938046896014282752
Ultimate competitor. Huge heart and mental makeup. Fearless making catches on the perimeter or over the middle. The heart and soul of the Memphis offense. Huge catch radius. Very strong hands at the catch point. Able to alter his body to make multiple types of circus catches. Thick upper-body enables him to consistently break tackles. Above average route-runner and very creative with ways to beat press coverage. Huge riser. One of my favorite prospects of this entire draft class.
30. OT / Mike McGlinchey — Notre Dame
NFL Comparison: Ricky Wagner
Made the transition to left tackle in 2016 after playing most right tackle in his career. Had some rough patches but got better as the year progressed. Average athlete. Frequently ends up on the ground randomly. Susceptible to speedy edge rushers. Run blocking is his strength. Shows a mean streak and aggression when confident in his assignment and matchup. Chemistry with the left guard stands out. Best suited as a right tackle in the NFL. Seemed to be more comfortable there.
31. WR / Courtland Sutton — SMU
NFL Comparison: Brandon Marshall
Taller receiver (6'4″) that understands how to use his size to his advantage when attacking the ball out of the air. Plays "above the rim" and rarely lets the ball come to him. Is the aggressor in 50/50 situation. Short-intermediate routes need a lot of refinement. Slow in and out of breaks. Not much of a YAC threat once he has the ball. Releases off the LOS are non-existent and will have to be coach to him.
32. CB / Isaiah Oliver — Colorado
NFL Comparison: James  Bradberry
A fast riser among a loaded cornerback class. Colorado now has the reputation of breeding impressive defensive backs. Length is a plus. Terrific ability to jam receivers at the line-of-scrimmage. Long arms helps him in his technique. Hips are above average. Technique is extremely inconsistent. He will show proper technique one snap and then look like a completely different player the next snap. Tackling is a huge question mark. He gets a bit shy in run support when asked to fill against the run.
33. OT / Orlando Brown — Oklahoma
NFL Comparison: Trent Brown
Oklahoma LT Orlando Brown has allowed just 6 QB pressures on 310 snaps in pass protection this season.

— CFB Film Room (@CFBFilmRoom) November 8, 2017
Massive man. NFL genes, as his dad is former Ravens great tackle Orlando Brown, Sr. Below average athlete. Can have troubles bending. There will be hips and flexbility questions. Dominant run blocker. Covers defenders up with ease. Gets to the second level with ease. Pass set needs tons of work. Quick fire offense hid some of his weaknesses in his pass sets. Holding and false start penalties were a concern (2016), but has improved since then. Due to an improvement in his technique.
34. RB / Ronald Jones — USC
NFL Comparison: Melvin Gordon
Change of pace back. Elusive. Can hit the gas and accelerate when he sees daylight in between the tackles. Strong enough to run through the trash at the first level. Good enough to make defenders miss on the 2nd/3rd levels. Can generate explosive plays and be a home-run threat. Above average lateral agility. Unproven as a receving threat. Want to see increased reps at it. Sometimes bounces runs to the perimeter prematurely and results in negatively plays or getting stuck in bad situations. Needs to be a bit more patient and trust runs between the tackles
35. EDGE / Hercules Mata'afa— Washington State
NFL Comparison: John Simon
A jack of all trades. Only 250 pounds and played out of position at defensive tackle, but did whatever what was asked of him. Built like a linebacker, but has the heart of a lion. Extremely disruptive. Dominated the competition weekly even though he was undersized. He knows how to use his natural leverage, quickness and agility to penetrate the line-of-scrimmage. Best fit is as a 3-4 outside linebacker.
36. EDGE / Uchenna Nwosu — USC
NFL Comparison: Dee Ford
Extremely twitchy and versatile rusher off of the edge. Late surge during the latter half of this season has helped his stock a lot. Very compact build and chiseled frame allows him to consistently set the edge with violence. Consistently proves to be an asset vs. the run due to proper and heavy hand usage. Brings a lot of value as a pass-rusher. Hips and bend standout when watching him. UCLA game was one of his best and talents were on full display.
37. OT / Martinas Rankin — Mississippi State
NFL Comparison: Morgan Moses
A player that really got better with each and every rep. Junior college transfer in 2016. Look lost at the beginning of his first collegiate season. Got better, which led to promise entering the 2017 season. Picked up where he left off this season at left tackle and held his own. Proper length, nimble feet, strong hands and average technique. Most likely translates better as an interior guy, but I think he could be an average NFL right tackle.
38. S / Marcus Allen — Penn State
NFL Comparison: Morgan Burnett
Above average run stopping safety. Heat seeking missile when filling in the run game. Can be a bit wild and out of control at times when engaging with ball carriers. Tackling overall is good, but technique usage must improve or durability will become a concern. Coverage skills is a work in progress. Struggles in zone coverage to throws into his zone. Really struggles noticing passing routes teams are running against him. The closer he is to the box, the better. Not a guy that can play on the roof of a defense and be rangy against the pass. May be best suited as a rover safety/extra linebacker.
39. EDGE / Marcus Davenport — UTSA
NFL Comparison: Carlos Dunlap
Marcus Davenport leaves #UTSA as the program's all-time leader in sacks and tackles for loss. #BirdsUp🤙 pic.twitter.com/8ZpHgmU2dz

— UTSA Football 🏈 (@UTSAFTBL) December 6, 2017
May be the prospect with the most upside in the entire draft. At 6'7″, Davenport has unreal length and is a box waiting to be unlocked. He shows flashes of being a dominant pass-rusher, but still very raw with his hand usage. Relies on his athleticism a bit too much as opposed to technique to beat blockers. With proper coaching, he could become a terror in the NFL. If he has a good showing at the Senior Bowl and at the combine, he could rise into the discussion as an early second-round pick.
40. RB / Bryce Love — Stanford
NFL Comparison: David Wilson
The most electric offensive player in the country. He's a home-run hitter and can go the distance at any moment in the game. Up until the final weeks of this season, he proved to be very durable. Played through an ankle injury, despite barely being able to walk. Toughness and mental make up are far from being questioned. Ultimate weapon as a pass catcher out of the backfield and as versatile as they come. Biggest question will be if he could be a bell cow or just a complimentary piece in a teams backfield.
Six-Pack of Final Thoughts
1. Continued Prayers for Ryan Shazier
One of the toughest parts about football is injuries and how players sacrifice their bodies on a weekly basis for their livelihoods and our entertainment. Pittsburgh Steelers linebacker Ryan Shazier suffered one of the most gruesome injuries that many have ever witnessed. Clearly in pain as soon as it happened. I don't want to speculate on his injury or recovery, but he continues to be in my prayers and I hope he has the ability to make a speedy and full recovery.
2. Cleveland Browns Firing Sashi Brown
The #Browns have fired GM Sashi Brown, source confirms (as ESPN said).

— Ian Rapoport (@RapSheet) December 7, 2017
Easily one of the most dysfunctional professional teams in all of sports is the Cleveland Browns. On Thursday, they opted to fire their Executive Vice President, Sashi Brown. I completely disagree with the decision and it goes to show how clueless the organization is as a whole. Despite a 1-27 record in his tenure, Brown was responsible for drafting talent in Myles Garrett, Corey Coleman, Emmanuel Ogbah, Derrick Kindred, Larry Ogunjobi, and finding a steal in undrafted free agent Briean Boddy-Calhoun. He also shored up the offensive line by signing Kevin Zeitler and J.C. Tretter.
Sure he missed by not drafting Carson Wentz or Deshaun Watson, but the Browns are on the fast path to having the no. 1 overall pick, where he could pick "his QB", and whose to say that those two would've had the same amount of success in Cleveland as they are now with their current teams. When Brown was hired, owner Jimmy Haslam re-iterated that he understood that this was a long-term plan, but here we are two seasons later and the Browns are once again looking hiring a new general manager.
3. Rob Gronkowski's One-Game Suspension
https://twitter.com/MaxWildstein/status/937423058297638912
Without a doubt one of the dirtiest plays that I have ever seen was Patriots tight end Rob Gronkowski torpedoing his body head first into the back of Bills rookie cornerback Tre'davious White. The hit resulted in White suffering a concussion. An injury that could've been far worse, but the issue that is disgusting is that the NFL only gave Gronkowski a one-game suspension. There have been worse crimes that have received far worse punishments. What type of message is the NFL trying to send with these light suspensions and what does this say about the NFL's care for players safety?
4. An NBA and NHL Franchise in Seattle?
https://twitter.com/SInow/status/937848970528903168
Seattle is one of the most energetic sports cities in the country. The city took big steps towards the return of an NBA team and the debut of an NHL franchise. The Seattle City Council has agreed to renovate the old Key Arena, which used to be home to the famous Seattle SuperSonics before the team disbanded and moved to Oklahoma City. The $660 million project is estimated to be completed during the fall of 2020.
5. College Football Playoff Debate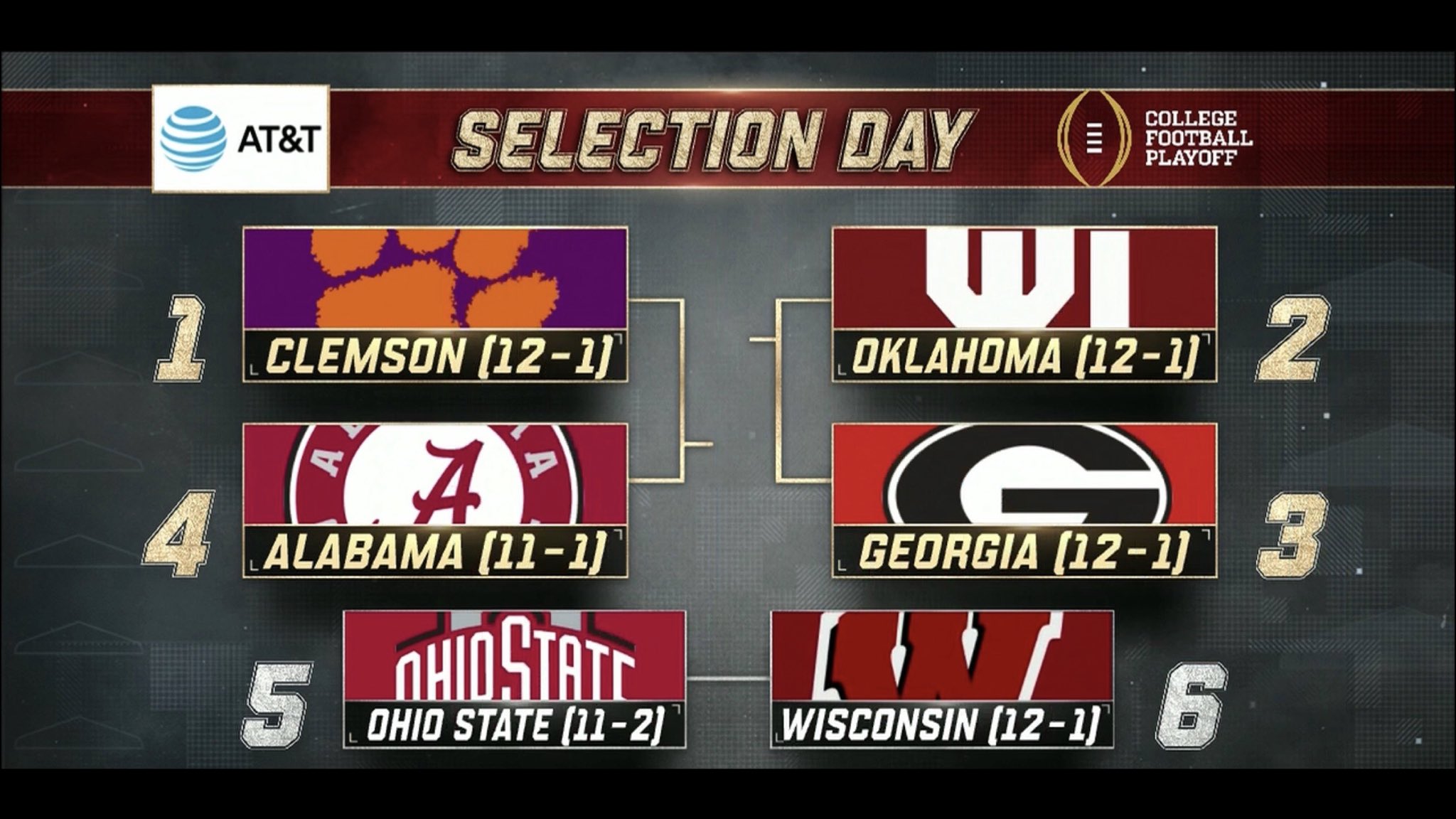 It wouldn't be the College Football Playoff if it didn't come without some type of debate. The biggest debate this year happened to be the fourth and final spot. Between Alabama and Ohio State, I think the committee got it correct voting in the Crimson Tide over the Buckeyes. The biggest stain on Ohio State's resume was a 55-24 blowout loss to Iowa, while the only blemish on Alabama's was a 26-14 defeat to an Auburn team that was one win away from being in the playoff themselves. There's an argument to be had for both sides, but for now, I think the committee got the decision correct.