OT Connor Williams — Texas 
After Mack Brown stepped down as head coach of Texas in 2013, the program has been on a bit of a down swing. Helping the program win a national title in 2005, Brown is without a doubt a living legend. 
The Longhorns have not had a first-round selection since the New England Patriots selected defensive tackle Malcom Brown in 2015. Prior to Brown, the New Orleans Saints selected safety Kenny Vaccaro in 2013. 
For a program with such rich tradition, it seems like Texas would have more multiple first-round selections within a given year. This potentially changes in 2018. Linebacker Malik Jefferson was one of the most sought after and the clear headliner of their 2015 recruiting class.
Ironically, one of the least talked about recruits in the class that year is proving to be the best of the bunch. To this point in his career, offensive tackle Connor Williams has been a star. Only receiving three-stars from Rivals.com in high school, he has been every bit of what a five-star recruit should be.
Why has Williams been so successful? Lets take a look.
Whether it's offensive or defensive lineman, hand usage seems like a lost art among college prospects. It is very rare that you see a prospect as advanced with it as Williams. Once he delivers a violent punch of his hands, latching onto defenders, he understands exactly where he needs to place them.
Many times with college offensive lineman, they just shoot their hands just to be doing it without having a proper plan of attack. You rarely see that with Williams. He is very wise when attempting to block.
An offensive lineman's mentality is something that they were born with. Either they have it or they don't. Meaning that some have the mentality to finish plays and some other stop at the whistle. Finishing isn't always the most important part of the play for a blocker, but it always nice to see. It is just effort.
Williams has the mindset that he wants to put every defender the encounters on the ground. In the example above, Williams easily climbs to the second level of the defense and de-cleats the linebacker. 
That isn't the most impressive part of the play though, it is the finish afterwards. He jumps on top of the defender to ensure that the running back is able to get through his alley cleanly.
 The backside linebacker ends up making the tackle, but if the RB had a clear lane and he wasn't there, Williams' block would've created a clear path for him.
Injuries. It's something that can make or break the status of a draft prospect. It is a factor that you have to worry about the least with Williams. Since stepping foot on campus in Austin Texas, he has started as the Longhorns left tackle for 23 straight games.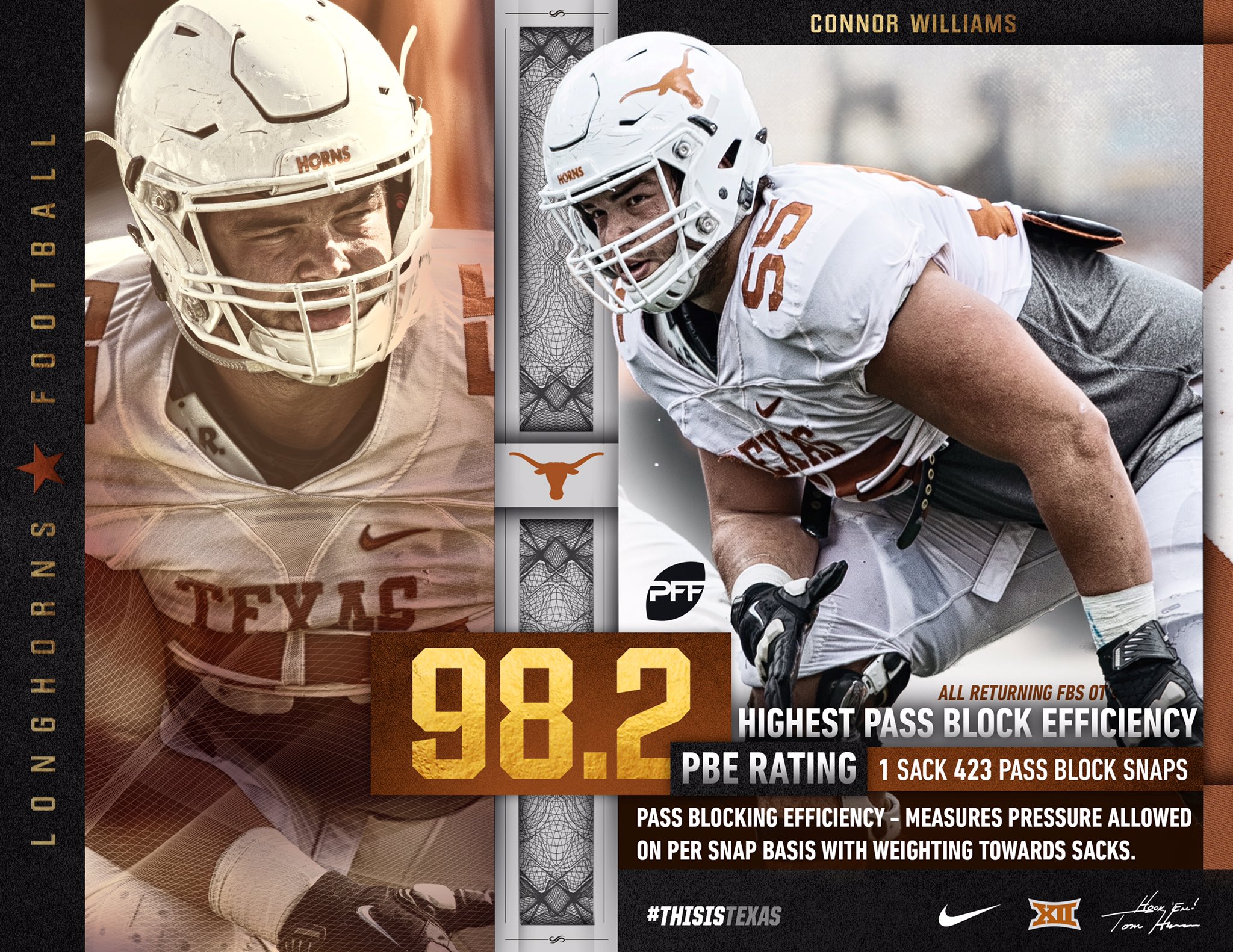 Not only has he started in every game he's participated in, but he's only given up one sack to go along with it. A phenomenal accomplishment for one of the most premier positions in football, Williams' ceiling is extremely high as he's entering what is expected to be his last season in a Texas uniform. 
A lot of times with offensive lineman that are eager to get their hands on defenders, they have problems of being over aggressive. This results in them at times completely missing their targets. The good aspect about this though is that it is correctable and just takes a bit more of patience.
Arguably the most important trait of an offensive tackle is their footwork. Pass setting in particular is a key attribute to hone in on when studying how athletic a prospect really is. Williams passes the athleticism eye test easily, but he still has some technical flaws in his footwork.